Jacqueline Holland, Founder & Chairperson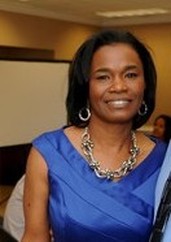 After her son, Ryan ended his battle with colon cancer on March 1, 2011 Jacqueline was given the vision to start a foundation in his name to honor him and God. She founded the Ryan Lee Holland Cancer Foundation in May, 2011 to financially assist cancer patients in active treatment. Cancer isn't new to Jacqueline, since her husband Rick was diagnosed with stage III colon cancer in 1991 at the age of 32 and again 4 weeks after Ryan overcame cancer in heaven.
Also, her 2 year old niece Danielle, ended her battle with Leukemia in August, 2000. She fully understands the hardships that families go through when battling a disease such as cancer. "I have lived it". This is why Jacqueline's vision is to provide financial assistance to cancer patients in active treatment, no matter the cancer diagnosis, age, or location in the United States.

Born in Liberia, West Africa, Jacqueline along with her mother and brothers relocated to the US in the early 1970s where she grew up in Toledo, Ohio. She relocated to Detroit, Michigan and attended Wayne State University. She received her Bachelors of Science Degree in Business Administration and her Masters in Business Administration from Central Michigan University. Jacqueline was employed with Detroit Board of Education in the Procurement Department as a Procurement Manager and was a subject matter expert trainer for their Enterprise Resource Planning (ERP) Financial system.

Jacqueline relocated to Atlanta, Georgia in 2007 to work with Urey Companies, a commercial construction company located in Alpharetta, Georgia. She is currently employed as Procurement Manager, with Urey Companies, LLC. Jacqueline's greatest accomplishment is raising her two children, Ryan and Courtney, into God fearing christians and outstanding citizens in their community. She is a member of First Baptist Church of Atlanta and currently resides in Alpharetta Georgia with her husband and daughter.


---
© 2013 Ryan Lee Holland Foundation - All Rights Reserved Last edited 3/6/2013