Dear Ryan Lee Holland Foundation,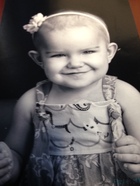 My daughter, Alexandria, who is 2 years old, was diagnosed with Medulloblastoma Cancer on May 4,
2011. She received aggressive chemo for six months at Nationwide Children's Hospital in Columbus, Ohio. On
November 2, 2011, my family and I were told that the chemo did not work and that Alexandria required
another surgery or radiation and Children's Hospital did not have a surgeon to perform the surgery. We traveled to St. Jude and LeBonheur Children's Hospital for consultation for additional surgery and treatment. Alexandria had a MRI at LeBonheur, the day before surgery was to be performed on December 13, 2011. The Doctor came back and said that the brain tumor was gone and her spine was clean of cancer. Our prayers were answered, Alexandria is cancer free. Currently, Alexandria is receiving radiation therapy at the OSU James Cancer Hospital for the next six weeks. Your financial support will help lessen the burden of paying for gas to take her for her daily treatments. We are very grateful for your financial support. God Bless you, your foundation, and donors.

Alexandria, Medulloblastoma Cancer, Columbus, Ohio

---
---
I want to thank you so much for the check you sent to me at this very trying time for us. We are so grateful as we can use the check for fuel to go back and forth to the cancer center and for some over the counter meds. The picture of your son was a picture of a most handsome and educated young man. We are so sorry and it sure is a beautiful thing to keep his memory alive with your foundation. Thank you from my heart.

John Parks, Jr., Colon Cancer Patient
Morganton, Georgia

---
Thanks for your support, I appreciated and value your financial support.
I never knew that there are organizations out there that still do care and help someone
in need. The assistance you gave to me went a long way. It has eased some of the financial burdens I had.
Once again, thank you. My family appreciate you.

Elizabeth, Breast Cancer Patient
Stockbridge, Georgia
---
Words cannot express how much your monetary kindness is appreciated. It could
not have come at a better time for me. I thank you so very much, and may God richly bless you.

Wendy, Brain Cancer Patient,
Kennesaw, Georgia
---
My name is Cathy Thomas, and I just wanted to say how elated I was to
receive a phone call from your foundation indicating that you had approved my
application for medical co-pay assistance.

I received a check from your foundation the day before my scheduled chemo treatment.
Your assistance will help me to pay my co-pay for 4 visits. This is such a blessing. Only hearts
that are God sent can be so compassionate to think of others in the way that you
do, especially so soon after your own life changing experience. It's such a
blessing to me because I am a disabled female on a fixed income with many other
illnesses in addition to my cancer treatments, and lots of times during the
month funds aren't enough to keep up with the medical visits.

Your assistance will ensure that I don't have to worry about my co-pay for my next 4
visits of chemo treatments. I cannot say thank you enough for your heartfelt
assistance! I pray for much success to your foundation in all present and
future endeavors!! After my healing I hope that I will be able to donate to
your foundation in support of others just as you have done.Respectfully and
graciously submitted,

Cathy, Breast Cancer Patient, Decatur, Georgia
---
Many, Many, Thanks,

Your gift was truly a blessing and it will help me so much. I really loved
the suppliles you sent and I will be spending the first $ for my MD appointment;
so your funds came at the right time. I go to the MD for so many different
issues, so any amount of co-pay assistance is truly a blessing and people like
you make it possible. You didn't have to do what you did because you don't even
know me, but "God" had you to do it and I will never forget it. You gave from
your heart and I will be so happy when I'm able to do the same for someone else.

When my situation change (and I believe it will), and I have some extra
funds, I will donate funds to your organization to help others, like you did for
me. I truly appreciate it. You are a Blessing!

Karen, Colon Cancer Patient, Houston, Texas


---
To Everyone at The Ryan Lee Holland Foundation

As we are going thru this very emotional time I want to say thank you and may
God Bless you. W'e were trying to find the money to get my husband's
medication. Then on December 9th your foundation called and donated to us.

It is a blessing that there are some truly wonderful people here to offer
help and prayers. I know I will get back to work and get back on our feet and I
promise as soon as I do we will pay it forward because one good deed deserves to
be passed forward. Thank you and God Bless!

York Family, Liver Cancer Patient, Canton, Georgia
---
Thank you so much

The monetary donation that I received from the Ryan Lee Holland Cancer
Foundation came at a much needed time for not only me but for my family as well.
I have a condition known as CML and your donation towards my office visit
allowed me to continue to go see my cancer physician. I am disabled and have no
insurance so your gift to me was truly a blessing and greatly appreciated.

Alphard, CML (Leukemia) Patient, Griffin, Georgia


---
I am writing to thank you for your generous gift of $100 to help towards
transportation costs during chemo treatments that started in November
2011.

I was diagnosed in November 2011 with stage 4 breast cancer that
has metastisized in my spine and ribs. Needless to say, I have been through
every emotional reaction from shock, denial, anger, sadness and then acceptance.
I am currently being treated weekly with chemo (Abraxane), 3 weeks on and one
week for the bone strengthener Zometa.

After reading Ryan's words of his journey in his own words I can truly say that I
admire the courage and faith that he was able to hold on to. It may have wavered
at times but he sounds like a very courageous and special young man. My heart
goes out to you for your loss and my prayers are with Rick Holland that he will be
completely healed and cancer-free.

Again, thank you. The money came at a time when it was
needed most and has been a tremendous help.

Many blessings and heartfelt appreciation,

Janet, Breast Cancer Patient, Acworth, Georgia


---
God's Angels,
Thank you very much for your assistance. May God continue to bless your vision.

Christine, Breast Cancer Patient, Lithonia, Georgia

---
Thank you so much for your generous gift to help with my medical expenses. I
am on long term disability with lung cancer (non-smoker) and your help meant a
lot to me.

Thank you!

Cathy, Lung Cancer Patient, Atlanta, Georgia


---
As you may know, getting treatment for cancer can become very expensive and
financially challenging. Overwhelmed with medical bills, a social worker at my
local cancer center provided me with the Ryan Lee Holland application.
Surprisingly, the application was short and to the point, unlike many others
that request your life long history and multiple of documentation. An
application process like that can be stressful and a turn off to complete, for a
person not well. I was also very surprised to receive a phone call in a very
short amount of time from a very caring and compassionate person, Mr. Holland.
He not only blessed me with funds towards my ongoing cancer treatment, but he
also blessed me with a testimony that touched my heart and gave me hope. May
you be blessed to continue your mission in helping others in need that have been
diagnosed with cancer.

Thank you ever so kindly,

Annette, Breast Cancer Patient, Greensboro, North
Carolina


---
A Huge Thanks To The Ryan Lee Holland Cancer Foundation

My name is Mike.I thank you from the bottom of my heart for the check. It
will help me for refills of my medicine. I have brain cancer, and hope to get
feeling better one day. I have a twelve inch scar on my head, and my hair
finally grew back. I will pray each day for your success.

Mike, Brain Cancer Patient, Kennesaw, Georgia


---
Hello, I am writing to thank your organization for reaching out to members of my
community. I am a clinical social worker at a regional cancer center in
Greensboro, North Carolina. I am always looking for financial assistance for our
patients and came across your website. I have heard from many of our patients
that you have been able to help them. They have shared with me that you have
been able to assist financially, but even more importantly, a gentleman has
called them personally and offered his own courage and compassion. His phone
call has motivated them and given them hope! For this, I am very grateful! What
you all are doing is very inspiring to me and my patients!
---
Thank you,

I just wanted to thank you for helping me be able to buy my gas to get to the
Cancer Center for all my appointments. I am on disability and I am having
problems paying my bills and paying for my medicines and the money you have sent
me will ease some of my worries.Thank you again for your kindness. May God bless
you.

Carol, Greensboro, North Carolina


© 2013 Ryan Lee Holland Foundation - All Rights Reserved Last edited 3/6/2013